MatePad 11 is also the first tablet with a keyboard that I came into contact with, as in the case of other tablets with this option, the question arises whether it can replace a laptop.
This depends from one user to another, depending on the type of activity they carry out on the laptop. If you work mainly with office applications, mail, internet, most likely the Huawei MatePad 11 is more than enough. If you do professional photo or video processing, it is possible that even a laptop will not satisfy you. So, as I said, it's an open discussion.
The Huawei MatePad 11 tablet works on the basis of Harmony OS 2.0 and is the first contact with this operating system, installed on something other than a watch or a TV. There is no difference at first glance between Android 10 and Harmony OS. Incidentally, AIDA64, from which the captures are below, detects Android 10 with EMUI11.
And if I mentioned the operating system, let me tell you more about the specifications of the tested model (DBY-W09): Snapdragon 865 processor, Adreno 650 GPU, 6 GB RAM memory, 128 GB storage + additional microSDXC card.
After listing the specifications, it is more obvious why I said it is a flagship tablet, it has the most powerful Snapdragon processor of 2020, but without 5G capabilities. Perhaps after the launch of the Huawei P50, the fact that Huawei products use Snapdragon processors no longer seems out of the ordinary.
The dimensions of the tablet are: 253.8 x 165.3 x 7.3 mm and it weighs 485 g. The IPS LCD screen has a diagonal of 10.95 inches, resolution 2560 x 1600 pixels, ratio 16: 10, with a maximum refresh rate of 120Hz. The screen-to-body ratio is 82.9%, which means that the bezels are quite large. As an iPad user I am used to this little inconvenience.
The screen is large and bright, around 500 nits. The colors are vivid and the contrast excellent, color correction settings can be made in case you are working on a project where accuracy is important. It has an eye protection option, Eye Comfort, and one for reading, eBook. It also has 3 refresh rate management modes: Dynamic (variable), Standard (60 Hz) and High (120 Hz). I stayed on 120Hz most of the time.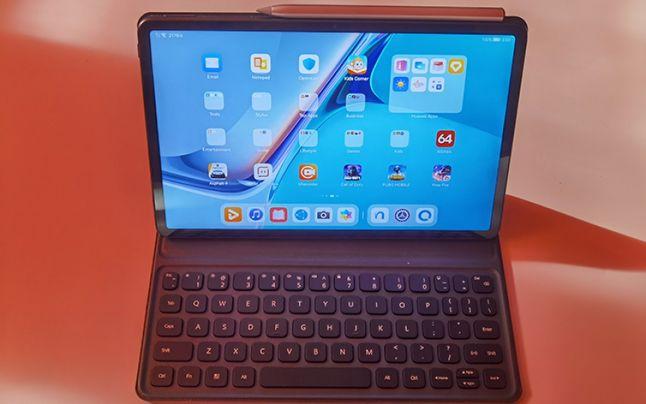 Photos, videos, office documents, internet browsing or gaming, everything looks big and clear on this screen, and the high refresh rate is felt in compatible applications. Not all applications can run on 120Hz, most run on 60Hz.

Huawei MatePad 11 has a main camera of 13 MP, f/1.8 with PDAF, LED flash, HDR and panorama that shoots up to 4K/ 30fps. The selfie camera, which can be useful for video calls, is 8 MP, f/2.0 and shoots up to 1080p/30fps.

For authentication I used password and face unlock which works flawlessly during the day and very well in low light. The screen is turned on to illuminate the face so that recognition can be done.

The MatePad 11 has a set of four stereo speakers - two on each side. These are Harman Kardon and they sound great. The bass is full, the voices are clear and we have distortion only on the high sounds, at maximum volume. They are suitable for watching a movie or listening to music and gaming. If I still mentioned gaming, I can say that it was my favorite activity on the MatePad 11. With the settings raised to the maximum in most games it behaves flawlessly. I recommend it especially for games of Battle Royale type. The large screen allows you to see your opponents better and aim with greater precision.

PUBG

Free Fire arena

A tablet with a 10-inch or larger screen has advantages over a smartphone that have so far been little explored and discussed. I do not rule out the possibility that dedicated gaming tablets will appear in the future.

Keyboard and M-Pencil. A detail that escaped me at first is that the M-Pencil is not like the one from the Samsung Note, but, like the keyboard, must be connected via Bluetooth.

The keyboard is applied to a textile support, at least that's how it feels to the touch, the grip is magnetic and you can adjust the angle of the tablet. It's easy enough to write on, but I don't see how comfortable it is for long-term use.

The M-Pencil writes and draws ok, when you don't use it you place it on the top edge of the tablet, to which it attaches magnetically. It is somewhat awkward to use because of the length. I like navigating through menus and applications with it, but it seems a little stiff when writing.

If you are particularly interested in the M-Pencil tool, my advice is to go to a store and try it out. See if it fits what you need.

Huawei MatePad 11 has a 7250mAh battery with fast wire charging at 22.5W and can charge wirelessly through reverse charging with 5W, other compatible accessories: a pair of headphones for example or a watch. Although it is possible, I would not think of charging the phone using the tablet. A full charge of the tablet, by wire, from 0 to 100% takes around an hour and a half.

In the PCMark battery test, the Huawei MatePad 11 lasted over 22 hours and remained at 18%. On the right column, the results in the Speedtest by OOKLA test (top) and FAST by Netflix.

Results in synthetic tests are excellent for a tablet: Antutu Benchmark, 3DMark - Wild Life and Geekbench.

The tablet, case and M-Pencil, each has its own box. The tablet also contains the charger, a USB-C to Jack adapter, SIM (data card) key and user manuals. The M-Pencil box also contains 2 spare nibs.

As the only tablet tested in 2021, I have nothing to compare the Huawei MatePad 11 with. The personal iPad is the only option, I use an iPad 8 (2020), 10.2 inches. The MatePad 11 screen is significantly brighter and with a higher refresh rate. In gaming, it allows higher settings and as a general audio experience, having 4 speakers, it is clearly superior.

What can you criticize the MatePad 11, like any other Huawei device from recent years? That it doesn't have Google services. For some it is an insurmountable obstacle, for others it is just an additional problem to solve.

In the end, as a tablet user, the discussion comes down to the question of whether or not I would use the Huawei MatePad 11? The answer is definitely yes. The tablet is a success and at the price of 1999 lei with keyboard and M-Pencil I don't think it has a rival at the moment.